We participated in the Japan Pavilion of World Future Energy Summit2013(WFES) held in Abu Dhabi, UAE. This year the International Water Summit was co-exhibited. Mr, Takahara, Director-General of the Agency for Natural Resources and Energy(ANRE) and Mr. Nishiyama, Director of International office of Energy Conservation and Renewable Energy Department ANRE, attended.
DATE: Jan.15-18, 2013
Venue : Abu Dhabi National Exhibition Center Booth space:42m2 , next to the booth of JCCME(Japan Cooperation Center of the Middle East)
Visiters:26,000 Exhibitors & 650 companies & organization. As well as IGEM, we demonstrated models for explain and experiment on the principle of Heat Pump as eye catching showpieces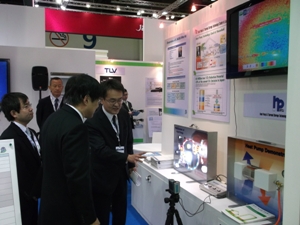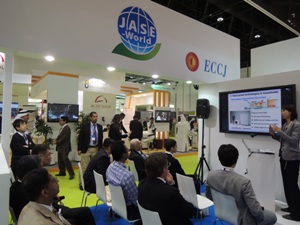 In the presentation corner, after the introduction of JASE-W's activities, not only JASE-W'S members, but also JCCME's have presented their own products and technologies, that generated synergistic effects. Participants of JASE-W's members were as follows: Daikin Industry Co.,LTD., Hitachi Zosen Corporation, Kaneka Corporation, Kawasaki Heavy Industries, LTD., Sharp Corporation, Sumitomo Mitsui Banking Corporation, TLV Co., LTD., Heat Pump & Thermal Storage Technology Center of Japan.