2013 Exhibitions & Events
We participated in the Geothermal Energy Expo 2013(GEA) held in Las Vegas, USA., organized Geothermal Energy Association and visited from all over the world who are interested in the technologies of geothermal power generation.At the same time the general meeting of Geothermal Resource Council was held.
Date:Sept. 29- Oct.2, 2013
Venue: MGM Grand Hotel and Resort, Las Vegas. booth space:18m2
Visitors:2,000 people, USA 50 states & 40 countries
Exhibitor:125 companies & organizations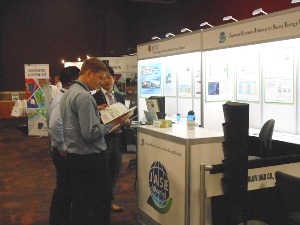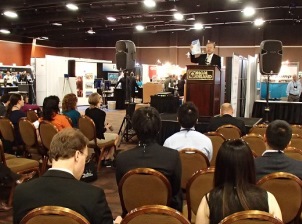 At the booth we introduced the WG Members' Geothermal Technologies in the panels and Mr.Kawahara of Nippon Koei attended. Not only from USA, but also from Turkey and Kenya of Africa visited to the Expo, showed a high interest in the Geothermal Power Generation.
Energy Saving Solution WG hosted the Seminar on energy saving in Enertec Expo 2013 Vietnam and introduced Japanese energy saving technologies and products. Installed a booth in Enertec Expo2013, we followed up for the business matching and hand out the JASE-W's booklet of Smart Energy Technology and products.
 At the seminar, as well as the introduction of JASE-W's activities, "Solutions for Energy Saving & Creation" from Asahi Glass Co., Ltd., "Multiple installation system of high efficiency once-through boiler", from Miura Co. Ltd., and "Eco-cute(Heat pump system)" from Mayekawa Mfg. co., Ltd. are introduced. After the presentation, they discussed actively in Q&A session.
Date: July 25. 2013 Venue: seminar hall, Tan Binh Exhibition Convention Center, Ho Chi Minh city, Vitman
Members: Asahi Glass Co., Ltd., Miura Co., Ltd., Mayekawa Mfg. co., Ltd. Guest and audience: Director of Institute of Energy MOIT, EVN Ho Chi Minh city、and so on, about 60 people attended.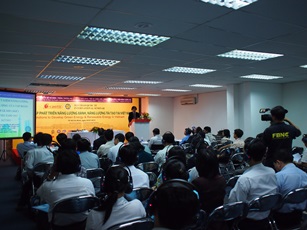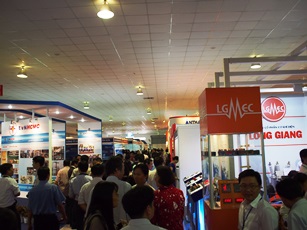 Also we visited the energy saving business related organizations for the purpose of fact-finding investigation regarding the Bilateral Offset Mechanism, and other energy saving business in Vietnam. Date: July 22nd.-24th. Visited : Ministry of Industry and Trade( MOIT), Institute of Energy of MOIT, JETRO Hanoi, JETRO Ho Chi Minh etc.

We participated in the Japan Pavilion of World Future Energy Summit2013(WFES) held in Abu Dhabi, UAE. This year the International Water Summit was co-exhibited. Mr, Takahara, Director-General of the Agency for Natural Resources and Energy(ANRE) and Mr. Nishiyama, Director of International office of Energy Conservation and Renewable Energy Department ANRE, attended.
DATE: Jan.15-18, 2013
Venue : Abu Dhabi National Exhibition Center Booth space:42m2 , next to the booth of JCCME(Japan Cooperation Center of the Middle East)
Visiters:26,000 Exhibitors & 650 companies & organization. As well as IGEM, we demonstrated models for explain and experiment on the principle of Heat Pump as eye catching showpieces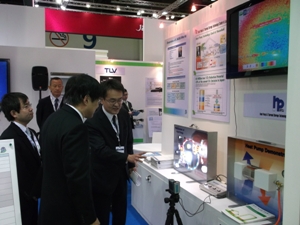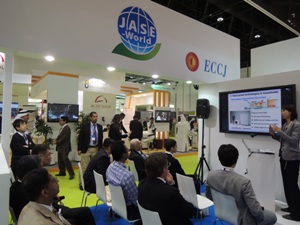 In the presentation corner, after the introduction of JASE-W's activities, not only JASE-W'S members, but also JCCME's have presented their own products and technologies, that generated synergistic effects. Participants of JASE-W's members were as follows: Daikin Industry Co.,LTD., Hitachi Zosen Corporation, Kaneka Corporation, Kawasaki Heavy Industries, LTD., Sharp Corporation, Sumitomo Mitsui Banking Corporation, TLV Co., LTD., Heat Pump & Thermal Storage Technology Center of Japan.