2022 Exhibitions & Events
 JASE-W exhibited at the ASEAN Sustainable Energy Week (ASEW) 2022 held in Bangkok, Thailand. Thailand holds the APEC presidency this year, and the venue for this exhibition, the Queen Sirkit National Convention Center, was fully renovated in September. The venue itself attracted a lot of attention as it was a groundbreaking event prior to the APEC Economic Relations Ministerial Meeting in November.
 ASEW2022 consisted of four major exhibitions: Renewable Energy Asia (RE), Energy Efficiency EXPO (EE), Entech Pollutec Asia (EP), and Electric Vehicle Asia (EV). 
Dates: September 14(Wed.) to 16(Fri.), 2022. 
Venue: Queen Sirkit National Convention Center
Participating companies: SANKEN SETSUBI KOGYO CO., LTD., Heat Pump & Thermal Storage Technology Center of Japan, Torishama Service Solutions(Thailand)Ltd., Nippon Steel Engineering CO., LTD., Kansai Energy Solutions (Thailand) Co., Ltd., Kawasaki Heavy Industries (Thailand) Co., Ltd., RESK
The above seven companies exhibited panels, gave presentations twice a day (two companies), and projected PR videos of their technologies as needed
At the booth the Japanese Charge d'Affaires to Thailand, the Secretary to the Ministry of Energy, Thai, the Deputy Director General of the Thai Department of Industry, and other local business representatives were visited,  and  JASE-W members companies explained and promoted their own energy-saving technologies and products.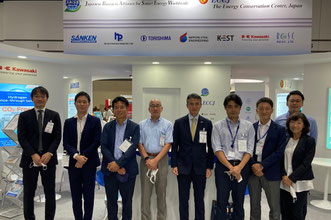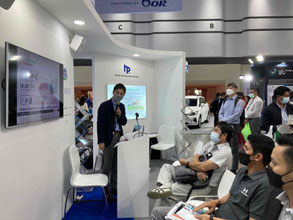 JASE-W exhibited in WFES 2022 in Abu Dhabi, UAE.
Since World Future Energy Summit (WFES) was canceled last year due to the spread of COVID-19 infection, it was held for the first time in two years.
JASE-W/ECCJ set up a booth of 48 sqm in the part of energy-focused area where big companies including MASDAR (Abu Dhabi Future Energy Company) were exhibiting.
Four JASE-W member companies displayed their panels and demo equipment and introduced their products and technologies for business deals.
Some companies adopted a new style of exhibition, for example, conducting on-line presentations from Japan and meeting visitors by their local expats.
Dates: January 17(Mon.) to 19(Wed.), 2022
Venue: ADNEC(Abu Dhabi National Exhibition Centre)
Display space: 48 sq m
Participating companies: T.Chatani & Co., Ltd. (AXIS Wastewater Treatment System) , Kawasaki Heavy Industries, Ltd. (Hydrogen Supply Chain) , Mitsubishi Heavy Industry (Waste-to-Energy) and Yokogawa Electric Corporation (Renewable Energy Control) .