Energy Saving Solution WG hosted the Seminar on energy saving in Enertec Expo 2013 Vietnam and introduced Japanese energy saving technologies and products. Installed a booth in Enertec Expo2013, we followed up for the business matching and hand out the JASE-W's booklet of Smart Energy Technology and products.
 At the seminar, as well as the introduction of JASE-W's activities, "Solutions for Energy Saving & Creation" from Asahi Glass Co., Ltd., "Multiple installation system of high efficiency once-through boiler", from Miura Co. Ltd., and "Eco-cute(Heat pump system)" from Mayekawa Mfg. co., Ltd. are introduced. After the presentation, they discussed actively in Q&A session.
Date: July 25. 2013 Venue: seminar hall, Tan Binh Exhibition Convention Center, Ho Chi Minh city, Vitman
Members: Asahi Glass Co., Ltd., Miura Co., Ltd., Mayekawa Mfg. co., Ltd. Guest and audience: Director of Institute of Energy MOIT, EVN Ho Chi Minh city、and so on, about 60 people attended.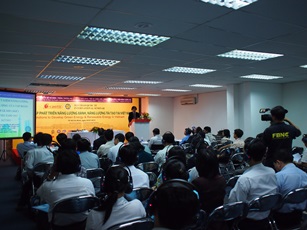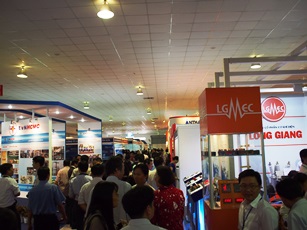 Also we visited the energy saving business related organizations for the purpose of fact-finding investigation regarding the Bilateral Offset Mechanism, and other energy saving business in Vietnam. Date: July 22nd.-24th. Visited : Ministry of Industry and Trade( MOIT), Institute of Energy of MOIT, JETRO Hanoi, JETRO Ho Chi Minh etc.