JASE-W participated in the Japan Pavilion of World Future Energy Summit2014 (WFES2014) held in Abu Dhabi, UAE. Mr. Fuji, Chief Vice Chairman of JASE-W, made presentations of Japanese energy efficiency technological edge at the Energy Efficiency Industry session of Conference as a panelist and TECH TALK which held firstly this year. In the JASE-W booth in collaboration with JCCME (Japan Cooperation Center for Middle East), our members displayed Panels and demonstration equipments, and made presentations of their own energy efficient products and technologies. It was very beneficial for our participants as business matching opportunities. Many government related people including Mr. Motegi, Minister of Economy, Trade and Industry, have attended as well as last year.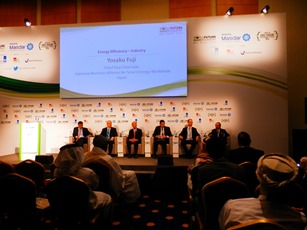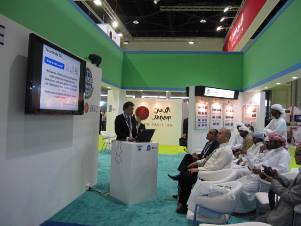 DATE: Jan.20-22, 2014
Venue : Abu Dhabi National Exhibition Centre Booth space:42m2 , next to the booth of JCCME(Japan Cooperation Center of the Middle East), total 96m2 Visiters:28,014 Exhibitors & 650 companies & organization. In the Middle East countries, Japanese cutting edge technologies are highly appreciated and a book of "Japanese Smart Energy products and technologies" was extremely popular in our booth. Many educational people such as students of University and Institutes of technologies, consultants and government related people visited our booth and paid attention to Japanese energy efficient technologies as well as JASE-W. Participants: Chiyoda Corporation, Cosmo Oil Co, Ltd., JFE Engineering Corporation, JGC Corporation, Hitachi Zosen Corporation, Kawasaki Heavy Industries, Ltd., Sharp Corporation, Toshiba Mitsubishi-Electric Industrial Systems Corporation, Japan International Cooperation Center, Japan Oil, Gas and Metals National Corporation, Heat Pump & Thermal Storage Technology Center of Japan.