JASE-W participated in the Japan Pavilion of World Future Energy Summit (WFES) 2015 held in Abu Dhabi, UAE. In the JASE-W booth in collaboration with JCCME (Japan Cooperation Center for Middle East), our members displayed panels and demonstration equipment, and made presentations of their own energy efficient and renewable products and technologies. It was very beneficial for our participants as business matching opportunities.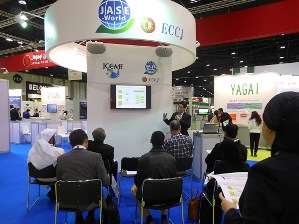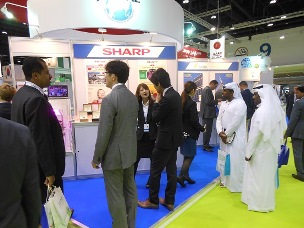 Date: Jan.19 (Mon)-22 (Thu), 2015
Venue : Abu Dhabi National Exhibition Centre Booth space:54m2 , next to the booth of JCCME (Japan Cooperation Center of the Middle East), total 108m2 In the Middle East countries, Japanese cutting edge technologies are highly appreciated and a book of "Japanese Smart Energy products and technologies" was popular in our booth.Government related people, municipality, and trading company, project builder and consultant visited our booth and listened to the presentation of JASE-W member's Japanese technologies and products, and make inquiries about their own projects in business matching corner.
Participants and their presentation theme:
 Kawasaki Heavy Industries - Effective use of Energy
Sharp - SHARP opens a new era of agriculture in UAE (Exhibition of model machine of strawberry nursery)
Heat Pump & Thermal Storage Technology Center of Japan - HEAT PUMP TECHNOLOGY-Benefits and Application
Sumitomo Mitsui Banking Corporation - SMBC's Approaches to Renewable and Energy Saving
JASE-W - JASE-W's activities
Solar Frontier - Solar Frontier and its Value Added Solutions
Chiyoda Corporation - Chiyoda's activity on Large-scale H2 Storage and Transportation Technology, and Solar Thermal Energy