Posts tagged with "2015exhibition"
14. September 2015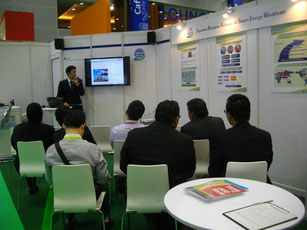 Organizer : Ministry of Energy, Green Technology and Water Date:Sept.9-12th, 2015 Venue: Kuala Lumpur Convention Centre Exhibitors : 287 companies, Visitors: 15,000 persons In JASE-W's booth, we displayed panels, and set the presentation corner and gave the presentation of JASE-W's activities and members' technologies & products. 4 members' companies, Tokyo Electron Device, Hitachi Zosen Corporation, Solar Frontia, TLV Engineering have participated and demonstrate their products. It was a...
23. January 2015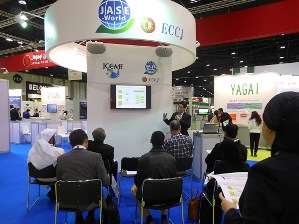 JASE-W participated in the Japan Pavilion of World Future Energy Summit (WFES) 2015 held in Abu Dhabi, UAE. In the JASE-W booth in collaboration with JCCME (Japan Cooperation Center for Middle East), our members displayed panels and demonstration equipment, and made presentations of their own energy efficient and renewable products and technologies. It was very beneficial for our participants as business matching opportunities.