JASE-W exhibited to participate in ASEW (ASEAN Sustainable Energy Week) 2020 held in Bangkok, Thailand, for two years in a row.
  Due to the influence of COVID-19, the size of the exhibition was reduced this year and various restrictions were put such as limiting the number of people in each exhibition booth, nevertheless 8 Japanese corporations based in Thailand not only JASE-W members but also those which were recommended by the Japanese Embassy in Thailand gathered in the JASE-W booth and promoted business matching by giving presentations introducing their technologies and products.
Though it was the first attempt to connect online the booth with the JASE-W secretariat in Tokyo to manage it remotely, it brought good success as well as useful opportunities for participating companies to expand their market in Thailand.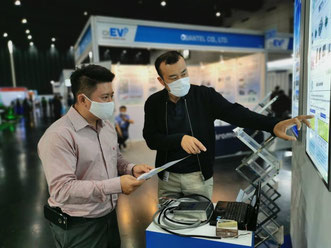 Date : September 23 (Tus.)-26 (Sat.), 2020
Venue : Bangkok International Trade & Exhibition Centre (BITEC)
Booth Space : 54m2 
Visitor : 21,000 people
Participation company:  Kawasaki Heavy Industry, NS-OG Energy Solutions, Osaka-Gas, Miura, Sun-Up, Finetch, Kobelco Eco Solutions, Mayekawa