Posts tagged with "2020exhibition"
JASE-W exhibited to participate in ASEW (ASEAN Sustainable Energy Week) 2020 held in Bangkok, Thailand, for two years in a row. Due to the influence of COVID-19, the size of the exhibition was reduced this year and various restrictions were put such as limiting the number of people in each exhibition booth, nevertheless 8 Japanese corporations based in Thailand not only JASE-W members but also those which were recommended by the Japanese Embassy in Thailand gathered in the JASE-W booth and...
28. January 2020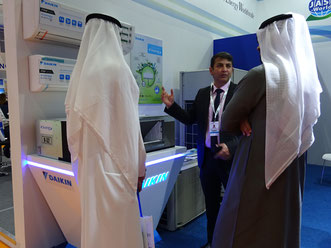 JASE-W exhibited and participated in the World Future Energy Summit (WFES) 2020 held in Abu Dhabi, United Arab Emirates. This year JASE-W jumped out from the Japan Pavilion as usual, and obtained 44sqm to set up the booth near the main sponsor area, i.e. Abu Dhabi Future Energy Company (MASDAR). Four JASE-W member companies attended and introduced necessity of energy saving and excellence of Japan's excellent technologies. Date: January 13 (Mon)-16 (Thu), 2020 Venue: ADNEC (Abu Dhabi National...