Posts tagged with "2021exhibition"
topic
 · 21. December 2021
Products website for Zero Energy Buildings has been released since Dec. 15th on Japanese Business Alliance for Smart Energy Worldwide website. Since ISO Technical Specifications TS23764 have been issued since Sep.24th 2021, people are raising more awareness that ZEB is possible in any country. In order to promote this trend, JASE-W has launched the website for introducing recomended products to build Zero Energy Buildings. More products will be introduced on this wibsite soon.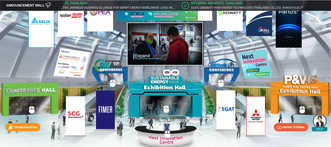 JASE-W took part in ASEW 2021 virtual exhibition. It was originally planned to run as in-person event as same in the last year, however due to the spread of COVID-19 infection in Bangkok, the organizer decided to hold it virtually. The exhibition consisted of three parts: virtual booths for companies' PR, Innovative Talks for presentations of companies' technology and products, and Conferences on subjects such as "Clean Energy Transition for Post-COVID" and "Smart City-Technology"....