2023 Exhibitions & Events
JASE-W participated in the ASEAN Sustainable Energy Week (ASEW) 2023 Exhibition held at the Queen Sirikit National Convention Center in Bangkok, Thailand, with its 10 member companies. 
ASEW is one of the most comprehensive and the largest show in Asia about energy and the environment, as more than 1,500 companies and organizations were showcased in the total 15,000sqm zone consisting from "Electric Vehicle(EV)", "Renewable Energy(RE)" , "Sustainable Energy(ASE)", "Pump and Valves(P&V), Water. At the same time many variety of conferences and workshops were held in the venue.
The key theme of ASEW 2023 was "Powering Clean Energy Transition Towards the Carbon Neutrality Goal".
Dates: August 30(Wed.) - September 1st.(Fri.), 2023. 
Venue: Queen Sirikit National Convention Center
Visitors: circa 30,000 (for three days total)
Participating companies: SANKEN SETSUBI KOGYO CO., LTD., The Furukawa Battery, Kawasaki Heavy Industries (Thailand) Co., Ltd. Torishama Service Solutions(Thailand)Ltd.,Takasago Thermal Engineering Co.ltd., AGC, Nippon Steel Engineering CO., LTD., Kansai Energy Solutions (Thailand) Co., Ltd., Osaka Gas(Thailand) , RESC
All companies posted their Ad-panels, gave presentations (6 companies), and even offered virtual experiance via VR equipment on the cutting edge energy saving technologies.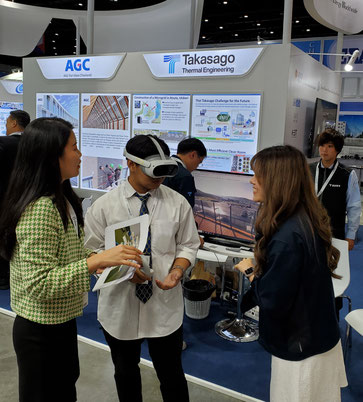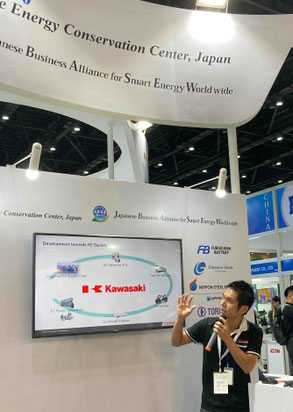 The World Future Energy Summit (WFES) is one of the world's leading business event for future energy and sustainability.  The summit brings together thousands of business and political leaders, industry specialists, academics and technology pioneers that can meet and network to explore new commercial opportunities, make valuable connections, drive future investment, and enable business growth.
This year marked the 10th time since JASE-W has been exhibited. Due to the expantion of COVID-19, the exhibition was cancelled two years ago and held on an a smaller scale last year, but this year it was successfully held with the lift of most restrictions.
Mr. Nishimura, Japanese Minister of Economy, Trade and Industry,  visited the JASE-W booth and  after overviewing of JASE-W's activities, he listened to explanations of innovative energy  technology products of each JASE-W exhibited company.  Each company's presentation was  attracted a large number of visitors, and business talks were conducted at each company's corner.
Dates: January 16(Mon.) to 18(Wed.), 2023
Venue: ADNEC(Abu Dhabi National Exhibition Centre)
Space: 45 sq m
Participating companies: Kawasaki Heavy Industries, Ltd. (Hydrogen Supply Chain) , Mitsubishi Heavy Industry Enviromental and Chemical Engineering Co., Ltd.(Waste-to-Energy) , Yokogawa Electric Corporation (Renewable Energy Control), The Furukawa Battery Co., Ltd.(Valve Regulated Lead-Acid (VRLA) storage batteries), Resc Ltd.(Battery Sharing Platform)